"A blind ascetic who has come to "Evaluate" the Spire. Master of the divine Stances."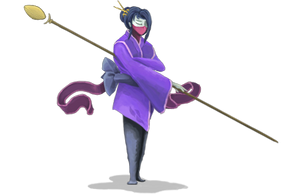 The Watcher is a playable character (currently exclusive to the beta branch) added to the beta build in the Testing the Fourth Character update . She is a monk that utilizes the effects of her different stances to her advantage, boasts an arsenal oriented around deck control via scrying and/or retaining, and possesses the unique benefits of Miracles. She starts with 72 HP. 
The Watcher's unique mechanic is her stances. She can enter, remain in or exit her stances using a variety of different cards in order to yield certain advantages from them.  She has 4 different stances. 
The Watcher's starting Relic is Pure Water. At the start of each combat, it adds a Miracle to your hand.
For the Watcher's full list of cards, click here.
Basic Cards (Default/Starting Deck)
Edit
Strategies
Edit
This section of the page is a stub, you are welcome to expand it.
The Watcher is unlocked by completing a run with The Defect.
Community content is available under
CC-BY-SA
unless otherwise noted.