GTA: The Criminal Enterprises - The Loop
Play Sound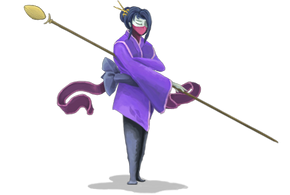 The Watcher is one of four playable characters in Slay the Spire. She is a monk that utilizes the effects of her different stances to her advantage, boasts an arsenal oriented around deck control via scrying,

retain, and Energy generation, as well as a unique focus on mid-combat card generation. She starts with 72 HP. 
The Watcher's starting Relic is

Pure Water, which adds a Miracle to your hand at the start of each combat.
The Watcher was first added to the beta build in the Testing the Fourth Character update and released to the public on January 14th, 2020.
Cards
[
]
Starting Deck
[
]
Relics
[
]
The Watcher has fewer class-specific relics than the other classes, having only two class-specific rare relics (rather than three like the Ironclad and Silent), and only two class-specific boss relics (rather than three, like those two and the Defect). The Defect has equally few overall, but is short two Rare relics instead of one Rare relic and one Boss relic.
Starting Relic:

Pure Water
Common Relic:

Damaru
Uncommon Relics:

Duality,

Teardrop Locket
Rare Relics:

Cloak Clasp,
Golden Eye
Boss Relics:

Holy Water (replaces

Pure Water),

Violet Lotus
Shop Relic:

Melange
Strategies
[
]

Retain
Deck
This build is primarily defensive, and wants to utilize Establishment to lower the cost of your cards and build up to one incredibly powerful turn once costs are reduced and cards are powered up. This deck is going to be lower on attacks and heavy on skills.
Of note, a couple of Scry cards can be useful. This helps filter out curses, and Third Eye can still be useful even if it isn't a Retain card. Just Lucky alone isn't enough for this purpose.
A Ragnarok deck focuses on keeping a thin deck with a way to defend yourself until you get the perfect turn to unleash a buffed attack hopefully killing anything in your way. It helps to get the card fairly early, but a lot of Wrath-based decks can include it efficiently.
The Flurry Stance deck relies on Flurry of Blows to add value to changing Stance, and Mental Fortress to keep yourself alive. It can be advantageous to not keep the deck ultra-thin to maximize the number of turns before your deck cycles.
Creation Deck
The Watcher has more cards that create other cards than any other character. This strategy aims to make the most of flooding your hand with powerful, mostly one-use cards.
Combo Deck
The Watcher has a lot of cards that rely on the card before it, or the stance you are in, for extra effects. This can effectively create a "combo", in which, if played well, can lead to a card fulfilling the requirements of the next.

Crush Joints - This card is particularly useful as the start of a long string of combos, as it requires a Skill first to activate its secondary effect of adding vulnerability. Not only that, but it is also useful as a start of a combo because of the vulnerability that affects the enemy.
Follow-Up - This is effectively a 0 cost card for a reasonable amount of damage. Although it is only 1 damage more than a simple "strike", it can still be used as a filler card between combo cards. Upgrading it would be very useful.
Sash Whip - The weakness inflicted by this card is not going to be useful if the enemy is not intending to attack, which it probably shouldn't be if you are stringing up for an attack combo. Which is why upgrading this is very important so that the weakness can carry on to the second turn.
Alpha Deck
Alpha is a card which requires a lot of investment within fights (you have to draw 3 cards and play 6 mana just for it to work), but has a really awesome pay-off if you can pull it off. Generally Alpha decks work best when they are small and contain a lot of supporting block cards. Creating an alpha deck is a popular way to complete the minimalist achievement, as you essentially only need alpha combined with a few block cards to win the game.

Mantra
Infinite Deck
This is essentially a Mantra deck that can go infinite through card cycling with a small deck, using upgraded Pray with Master Reality and cheap, reusable ways to enter Calm like Inner Peace. This combo is very hard to achieve since you depend on luck to acquire the right card while keeping a small, playable deck as you build toward this combo.

Cycling mechanics:
Like many infinites, you need to have a small deck. This infinite requires (at least) 1 Insight in your hand, and empty draw/discard pile when this combo is running.
Execution:

Pray cycle: Play Pray which generates Insight in draw pile, then play Insight in your hand to draw Pray and Insight. Depend on the situation, you can play 1 more card each cycle as upgraded Insight can draw 3 cards.
Repeat this cycle, but make sure you are in Calm before entering (or reentering) Divinity. When you are at 6+ Mantra, play Inner Peace to enter Calm, then Pray to enter Divinity (again) and Insight to recycle your cards.
While in Divinity, you can play 1 more card along with your cycle. Good targets: Brilliance, Wallop. Pay attention to your Energy to make sure you can continue your combo. Remember to switch to Inner Peace at 6+ Mantra.

Required cards for this infinite:

Master Reality, upgraded Pray, Inner Peace for the cycling engine.
Brilliance as main damage card, Wallop for fight with Time Eater where you cannot go infinite and have to end your turn with Block, or with the Heart where you need Block while doing your infinite (also to end your turn with Block).
Like other infinites, Peace Pipe, Purity can help with reducing your Deck size. As the Watcher has no native exhausting card like Ironclad's True Grit, Purity is required most of the time if you cannot remove enough card.

You can add more copies of Pray and Inner Peace to add consistency, as long as you can keep a small deck. Additional Inner Peace can be used to draw cards when needed. Cards that exhaust themselves like Scrawl and Deus Ex Machina can help setting up the infinite.
Although not essential, Sundial is excellent in this deck, as for any other infinite deck. Violet Lotus gives 1 more energy each Divinity-Calm cycle.
Unlocks
[
]
The Watcher is unlocked by completing an unseeded run with any character (defeating Act 3 boss) while having the Defect unlocked.
| Unlock Number | Prizes Unlocked |
| --- | --- |
| 1st | Prostrate, Blasphemy, Devotion |
| 2nd | Foreign Influence, Alpha, Mental Fortress |
| 3rd | Spirit Shield, Wish, Foresight |
| 4th | Akabeko, Duality, Ceramic Fish |
| 5th | Strike Dummy, Teardrop Locket, Cloak Clasp |
Gallery
[
]