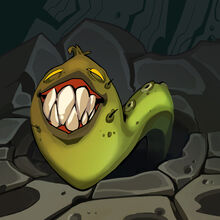 The Ssssserpent is an Act 1 Event.
[Agree] Receive 175 Gold (150 Gold in Ascension 15+). Become Cursed - Doubt.
[Disagree] (Nothing happens)
Strategy
While the question of whether the increase in card removal cost is worth it cannot be answered simply, it is generally not a good choice to take the Curse unless you have some form of ensured card removal in the near future or a relic which negates or lessens the impact (Ginger, Blue Candle, Omamori), particularly before the next Elite or Boss. This is especially true in high Ascension levels, where not only is less gold granted but the cost of removing a card via shops (16+) and some events (15+) also increases.
Update History
Weekly Patch 42: Reboot

Addnig ambient SFX for Sssserpent event.

Weekly Patch 1: The First of Many!

Fixed typo in Sssserpent event text.

Day 1 Patch

The Serpent's offer is now more compelling.