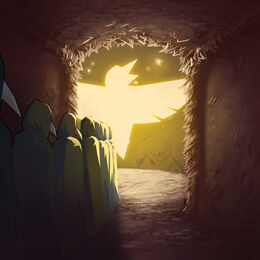 The Nest is an event found exclusively in Act 2. You join a line of several robed characters entering a cathedral, seemingly performing a ritual of some sorts.
Options
[
]
Numbers in parentheses are for Ascension 15 or higher.
[Smash and Grab] Obtain 99

(50)

Gold.
Dialogue
[
]
Encounter
A long line of

hooded figures

can be seen entering an

unassuming cathedral.
Naturally, you join the line and are quickly surrounded by
Cultists!
They ignore you as they gleefully chant and wave their weapons around.
Cultists:
"MURDER!! MURDER MURDER!!"
Cultists:
"CAW CAW CAAAAAWWW!"
Cultists:
"MURDER! MURDER MUURDER!!"
Cultists:
"CAAW CAW CAAAAAAWW!!"
You eye a
Donation Box...
Stay in Line
You decide to stay in line (out of fear) to see what will happen.
Eventually, you are face-to-face with the leader. A well-dressed cultist hands you an

Ornate Dagger

. Like the others before you, you slash your forearm and let the blood drip into a misshapen bowl.
The cultists chant and holler for you!
Cultists:
"CAAW CAW CAAAAAAWW!!"
You chant, too. Why not?
Smash and Grab
They didn't even notice.
Strategy
[
]
This is one of the event with no heavy downside. Both options are beneficial in some way.

[Stay in Line], at a negligible cost of 6 HP, grants you Ritual Dagger, an infinite-scaling card with low cost and good base damage.

The card is particularly useful on the Watcher, as Wrath and Divinity allows her to multiply the card's damage, allowing an easy killing blow with the card. Meditate can also help bring the card back for a guaranteed Fatal turn.

[Smash and Grab] grants a modest amount of gold. Unless you have Ectoplasm, more gold obtained is always useful.
Update History
[
]
Weekly Patch 37: Darkness

an -> a typo in the Nest event.

Weekly Patch 29: TURBO

In the Nest event, you receive the dagger for 6 damage instead of a downgrade now.
In the Nest event, the non-dagger option steals less gold now (150 -> 99). Ascension 15 -> 50.

Weekly Patch 28: The Ritual

New Act 2 event: The Nest
New Card: Ritual Dagger