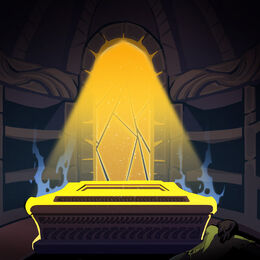 The Mausoleum is an event found exclusively in Act 2. You encounter a bejeweled sarcophagus containing a treasure, albeit with ominous smoke seeping out from it.
Options
[
]
Numbers in parentheses are for Ascension 15 or higher.
Dialogue
[
]
Encounter
Venturing through a series of tombs, you are faced with a large sarcophagus studded with gems in the center of a circular room.
You cannot make out the writing on the coffin, however, you do notice

black fog

seeping out from the sides.
Open Coffin
If you become Cursed
You push open the coffin. As you do,

black fog

spews forth and covers the entire room! Inside, you find no body, only a

relic.

You take it and move onwards,

coughing violently.

If you avoid the Curse
You push open the coffin. The fog dissipates harmlessly. Inside, you find the mortal remains of a decorated soldier grasping an old

relic.

. You pilfer it and move on.
Leave
You continue along your way, leaving the forgotten dead undisturbed.
Update History
[
]
Weekly Patch 42: Reboot

Adding ambient SFX for Mausoleum event.

Weekly Patch 21: Channel Lightning

Seeds are now utilized for The Mausoleum event.