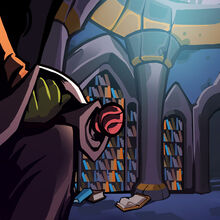 [Read] Choose 1 of 20 cards to add to your deck.
[Sleep] Heal 33% of your max HP. (20% in Ascension 15)
All card choices are the same color as your character's class and are non-upgraded.
Choosing [Read] forces you to choose a card to add to your deck, as you cannot go back and choose [Sleep] once you've seen the 20 card options.
When choosing [Read], the event will reference one out of 3 novels: Worm by John C. McCrae, The Martian by Andy Weir, or Wool by Hugh Howey.