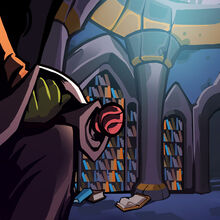 The Library is an Act 2 event. It offers the player the following options:
[Read] Choose 1 of 20 cards to add to your deck.
[Sleep] Heal 33% of your max HP. (20% in Ascension 15)
All card choices are the same color as your character's class and are non-upgraded.
Choosing [Read] forces you to choose a card to add to your deck, as you cannot go back and choose [Sleep] once you've seen the 20 card options.
When choosing [Read], the event will reference one out of 3 novels: Worm by John C. McCrae, The Martian by Andy Weir, or Wool by Hugh Howey.
Update History
Edit
Patch V1.1: The Dealer

Library event can no longer contain duplicate cards.

Weekly Patch 53: Blizzard

Fix for Egg relics causing an issue with cards in the Library event screen.

Weekly Patch 18: Paranormal

Fix for Calling Bell/Library/Pandora's Box exploit.

Weekly Patch 16: Back to Work

You can now view your deck or the map when the grid card select screen is up (Such as The Library event)

Weekly Patch 5: Happy Holidays!

Insect-controlling -> typo in The Library event's text.

Weekly Patch 2: Slimes!

Updating The Library event's option to clarify that you choose 1 of 20 cards rather than the usual 3.

Day 1 Patch

Minor wording updates for Library event.
Community content is available under
CC-BY-SA
unless otherwise noted.