Pain is a Curse.
While in hand, lose 1 HP when other cards are played, bypassing any
Block
. A deadly curse, even worse than
Regret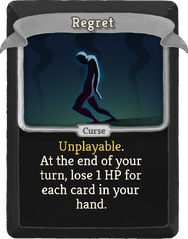 , as minimizing its damage is not often practical. This curse becomes a mixed blessing when used with self-harm cards including
Rupture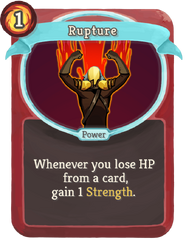 ,
Blood for Blood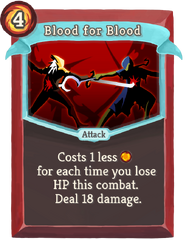 ,
Centennial Puzzle
Centennial Puzzle:
The first time you lose HP each combat, draw 3 cards.
Upon solving the puzzle you feel a powerful warmth in your chest.
,
Runic Cube
Runic Cube:
Whenever you lose HP, draw 1 card.
The runes are indecipherable.
and
Self-Forming Clay
Self-Forming Clay:
Whenever you lose HP in combat, gain 3 Block next turn.
"Most curious! It appears to form itself loosely on my thoughts! Tele-clay?" - Ranwid
Community content is available under
CC-BY-SA
unless otherwise noted.