New Pokemon Games - The Loop
Play Sound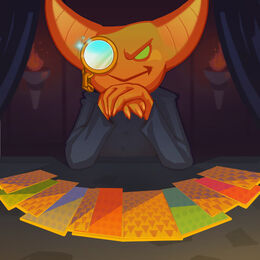 Match and Keep is an event that can appear in Act 1, Act 2, and Act 3.
You are forced to play a card matching game. You get 5 attempts to match cards. Any cards you match, you add to your deck, regardless of whether you want the card or not. The following cards will be available for matching:
The color of each colored card will be dependent on which character you are playing as.
Dialogue
[
]
Encounter
A gremlin is madly shuffling cards on a table. This monster seems to be a harmless one. You approach him out of curiosity.
Gremlin:

Twelve

cards! Match them to keep them!

Five

tries, no do-overs.
Gremlin:
Are you ready? Let's start!
Finish
You complete the gremlin's game and look up.'
He disappeared?
Strategy
[
]
If you don't want to add any cards to your deck, you can just pick the same 2 cards 5 times and not add any cards to your deck

However, you could pick 2 matching cards initially, though the odds of this are somewhat low.
Be wary of the Curses that the game offers. On Ascension 15+, the second pair of curses can be the same curse as the first pair, so be more careful when on high ascension levels, unless you seek curses.
The Rare card offered is most likely to be beneficial to your deck, so try to see which card it is to decide whether or not to match it.
Update History
[
]
Weekly Patch 40: Forethought

Gremlin Match and Keep event now has cards upgraded correctly.

Weekly Patch 31: Custom Mode

Match and Keep cards are now viewed as upgraded w/ Egg relics.

Weekly Patch 26: Controller Support Testing

Fixed issue where if you fail to match cards in the Card Match event, a card can stay large.

Weekly Patch 21: Channel Lightning

Match and Keep event is now seeded.

Weekly Patch 7: Setting Up All the Things

Cloak and Dagger no longer appears in the card match event before it is unlocked, instead there is always a copy of Neutralize.

Weekly Patch 6: We're Back!

Match and Keep event now has art.

Weekly Patch 4: Full speed ahead!

Fixed typo where a quote mark was blue for match and keep event.