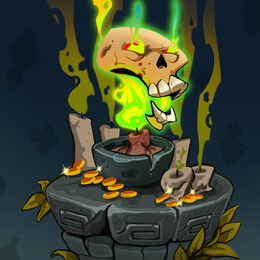 The Knowing Skull is a rare Event found exclusively in Act 2. You encounter a talking skull that can grant many rewards, albeit for a bloody price.
You can encounter this event only if you have 12 or more HP.
Options
[
]
[Riches?] Obtain 90 Gold. Lose 10% of your Max HP (Minimum of 6 HP).
[Success?] Obtain a random Uncommon Colorless card. Lose 10% of your Max HP (Minimum of 6 HP).
[A Pick Me Up?] Obtain a Potion. Lose 10% of your Max HP (Minimum of 6 HP).
[How do I leave?] End the event. Lose 10% of your Max HP (Minimum of 6 HP).
Each time a reward is selected, the cost for that reward increases by 1 HP.
Rewards may be selected repeatedly for as much health as you are willing to spend. The event will not end until [How do I leave?] is selected.
Dialogue
[
]
Encounter
You find yourself in an old, decorated chamber. In the center of the room, a large skull sits atop an ornate pedestal. As you approach, the skull
bursts into flames
and turns to face you.
"WHAT IS IT YOU SEEK? WHAT IS IT YOU OFFER?"
In sync with its final words, the door behind you slams shut.
Riches?
"YOU MORTALS NEVER CHANGE. IT IS DONE."
Gold

rains down on you.
Success?
"PERHAPS THIS WILL HELP?"
You obtain a card.
A Pick Me Up?
"DRINK UP!"
You obtain a potion.
How do I leave?
"BEHIND YOU, MORTAL."
You peek behind the skull. Surely enough, there is a door.
Tips
[
]
With Bloody Idol relic, choosing the [Riches] option will grant you 5 HP of healing to heavily offset the damage.
Tungsten Rod relic reduces the HP cost of each reward by 1 HP. The cost for each reward still increases each time it is selected.
Update History
[
]
Patch V2.0: The Watcher

Knowing Skull event HP cost increases with each reward taken

Patch V1.1: The Dealer

Knowing Skull event can no longer give you a potion if you have the Sozu relic.

Weekly Patch 40: Forethought

Events: Falling, Secret Portal, Knowing Skull, Golden Idol, and Scrap Ooze receive ambient BGM.

Weekly Patch 32: Face Trader

Knowing Skull HP cost minimum is set to 6 to prevent infinite gold with Bloody Idol.

Weekly Patch 30: Skewer

Knowing Skull event now always asks for 10% of your Max HP instead of a set amount.

Weekly Patch 5: Happy Holidays!

Knowing Skull event gets reworked. Die to your greed now.

Weekly Patch 3: Balance Balance Balance

Fixed Knowing Skull event options being ordered oddly after choosing the top option twice.