GTA: The Criminal Enterprises - The Loop
Play Sound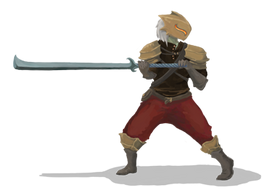 The Ironclad is one of four playable characters in Slay the Spire. He wields an arsenal of powerful strikes, boasts formidable defensive options, and draws fiendish strength from his demonic benefactors to empower himself in various ways. He starts with 80 hp, highest of the playable characters, and can manipulate Exhaust.
The Ironclad's starting Relic is

Burning Blood, which heals 6 HP after combat.
Cards
[
]
Starting Deck
[
]
Relics
[
]
Starting Relic:

Burning Blood
Common Relic:

Red Skull
Uncommon Relics:

Paper Phrog,

Self-Forming Clay
Rare Relics:

Champion Belt,

Charon's Ashes,

Magic Flower
Boss Relics:

Black Blood (replaces

Burning Blood),

Mark of Pain,

Runic Cube
Shop Relic:

Brimstone
Strategies
[
]
General Build Archetypes
[
]
These are the standard types of decks that may give you an idea of direction for your deck, or what you want to go for. Keep in mind that none of these builds are mutually exclusive. Many of them are more of a general strategy, which can be adapted or combined into multiple builds in a single deck.
Corruption
+

Dead Branch
Deck
Corruption makes all Skills cost 0 in exchange for exhausting them upon use, but Dead Branch would generate a replacement for used skill. If Dead Branch generates another Skill, then you can use another Skill again for free.

Most of Ironclad Skills grant high Block, allow you to easily tank damage once you use multiple of them. If possible, use Barricade beforehand to allow Block you've gained not to be wasted between turns.
Some of Ironclad Skills grant Energy. Special notes goes to Seeing Red which normally cost 1 un-upgraded. With Corruption, it becomes a free 2 Energy generation. Spend Energy gained on other crucial cards on your hand, such as Power card or Attacks.
Fiend Fire can generate a lot of random cards with Dead Branch, which gives more chance to generate random 0-cost Skills cards
Perfected Strike+ strike cards (Strike, Pommel Strike, Twin Strike, Wild Strike).
Your deck will become very heavy, lots of draw like Battle Trance will be important, as will in-battle upgrade effects like Apotheosis, Armaments+, and Warped Tongs.
Powerful defensive cards will be a must when offered, since you will be taking large quantities of offensive cards.
You will also need to be on the lookout for strong defensive Relics, such as: Self-Forming Clay, Orichalcum, Anchor, Horn Cleat, or Captain's Wheel.
Necronomicon synergizes very well with Perfected Strike+.
Prayer Wheel works very well with this deck as it gives you twice as many occasions to add Strike cards.
Dual Wield increases the power of the deck a lot more than usual, increasing the damage of each Perfected Strike by up to 6, and increasing the amount to be drawn.
A 4th energy is particularly important to be able to play multiple copies if desired.
Masochist Deck
Utilizes Rupture and cards that deal damage to you, aiming to finish fights quickly.
Hemokinesis, Offering, and Bloodletting are the other cards that self harm.
The Blue Candle allows you to hurt yourself by exhausting curse cards.
J.A.X. is a chance encounter, but grants you both health loss to trigger Rupture while also grants you Strength on its own.
Any cards that benefit from gain are good here.
Draw to get your combo together is very helpful. Make sure to get some defense to keep outside damage taken low.
Blood for Blood does significant damage and will quickly become cheap or free with Brutality or Combust. Having a solid 0-cost attack lets you take advantage of the extra cards drawn from Brutality, and can tide you over if you don't find Rupture early on (or draw it early in the fight).
Get Dropkick and remove as many other cards as possible. Once you have 2 Dropkicks or 1 Dropkick + Dual Wield, you can play Bash + lnfinite Dropkick. Upgraded Offering is very useful in this build because it can draw 5 cards, which means that you can infinite kicks with a 10 card deck.
This is an easy to assemble but strong build. It can be done with restarting short games to get Dropkick early.
Unlocks
[
]
| Unlock Number | Prizes Unlocked |
| --- | --- |
| 1st | Heavy Blade, Spot Weakness, Limit Break |
| 2nd | Omamori, Prayer Wheel, Shovel |
| 3rd | Wild Strike, Evolve, Immolate |
| 4th | Havoc, Sentinel, Exhume |
| 5th | Blue Candle, Dead Branch, Singing Bowl |
Gallery
[
]