"The remaining soldier of the Ironclads. Sold his soul to harness demonic energies."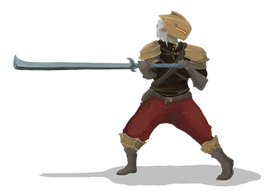 The Ironclad is one of three playable characters in Slay the Spire. He wields an arsenal of powerful strikes, boasts formidable defensive options, and can draw fiendish power from his demonic benefactors.
The Ironclad's starting Relic is Burning Blood, which heals 6 HP after every combat.
For the Ironclad's full list of cards, click here. 
Basic Cards (Default/Starting Deck)
Edit
Strategies
Edit
There are many possible combinations of cards that work well together. It is often useful to not take a card if it doesn't support the combo you are going for. Some strategies include (please add more!):
High defense
Edit
High strength with high volume of attacks
Edit
Searing Blow
Edit
Exhaustion synergy
Edit
This strategy gains power from exhausting cards. In addition to those listed here, cards that are exhausted upon use are helpful here.
Exhaustion / Defense Combo
Edit
Perfected Strike synergy
Edit
Perfected Strike

+ strike cards (Strike

,Pommel Strike

,Twin Strike

,Wild Strike

)
Your deck will become very heavy, lots of draw like Battle Trance

will be important, as will in-battle upgrade effects likeApotheosis

,Armaments

+, and Warped Tongs.
Powerful defensive cards will be a must when offered, since you will be taking large quantities of offensive cards.
You will also need to be on the lookout for strong defensive Relics, such as:Self-Forming Clay

Self-Forming Clay:

Whenever you lose HP in combat, gain 3 Block next turn.

"Most curious! It appears to form itself loosely on my thoughts! Tele-clay?" - Ranwid

,Orichalcum

Orichalcum:

If you end your turn without Block, gain 6 Block.

A green tinted metal of an unknown origin. Seemingly indestructible.

, orAnchor

Dual Wield

increases the power of the deck a lot more than usual, increasing the damage of each Perfected Strike by up to 6, and increasing the amount to be drawn.
A 4th energy is particularly important to be able to play multiple copies if desired.

Self-Status

Edit

Masochist

Edit

Utilizes Rupture

and cards that deal damage to you, aiming to finish fights quickly.
Rupture

andBrutality

together means you gain 1 Strength per turn. Only 1 copy of each is necessary, more won't increase the Strength gain.
Hemokinesis

,Offering

, and Bloodletting

are the other cards that self harm.
Any cards that benefit from gain are good here.
Draw to get your combo together is very helpful. Make sure to get some defense to keep outside damage taken low.

Card Draw + Fiend Fire

Edit

Kick kick and kick

Edit

Get Dropkick

and remove as many other cards as possible. Once you have 2Dropkicks

or 1Dropkick

+Dual Wield

, you can play Bash

+ lnfinite Dropkick

. Upgraded Offering

is very useful in this build because it can draw 5 cards, which means that you can infinite kicks with a 10 card deck.
This is an easy to assemble but strong build. It can be done with restarting short games to get Dropkick

early.

Snecko Eye and High Energy Cards

Edit

If you manage to get Snecko Eye during first Boss fight, you can go for cards with high energy costs as main damage dealer: Bludgeon, Carnage and Immolate are the best, while Sever Soul

and Fiend Fire

can help with clutter.
Dual Wield

is what makes this build shine: getting two zero cost Bludgeons is usually enough to finish a fight.
Defensively it's possible to focus exclusively on Flame Barrier.
Going forPerfected Strike

build is a sound strategy prior to getting Snecko Eye, since Boss rewards are rather random.

Unlock Number
Prizes Unlocked
1st
Heavy Blade

, Spot Weakness

, Limit Break

2nd
Omamori, Prayer Wheel, Shovel
3rd
Wild Strike

, Evolve

, Immolate

4th
Havoc

, Sentinel

, Exhume

5th
Blue Candle, Dead Branch, Singing Bowl
Community content is available under
CC-BY-SA
unless otherwise noted.