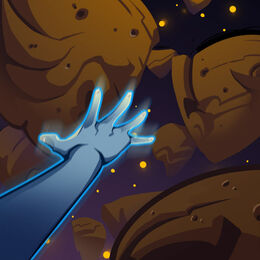 Falling is an event found exclusively in Act 3. You fall, and must sacrifice a card in order to survive the fall.
Options
[
]
[Land] Lose (Random Skill)
[Channel] Lose (Random Power)
[Strike] Lose (Random Attack)
If you have only Bottled cards in your deck, the only option available is [Land], but you do not actually lose any cards as Bottled cards cannot be removed.
Dialogue
[
]
Encounter
As you head upwards hopping from one floating shape to another, you slip.
You begin to fall.
While in free fall you consider your options:
Land safely with your greatest techniques.
Channel a Power to survive the fall.
Strike at the wall to hang on to it.
Land
You land with extreme grace before continuing on.
Channel
Harnessing and expending some of your raw power, you manage to land unhurt.
Strike
You are able to latch on to the wall, and manage to make a short hop onto another stable platform.
Land (with no valid cards to remove)
You seem to fall as slow as a feather, reaching the bottom without a scratch.
Update History
[
]
Weekly Patch 40: Forethought

Events: Falling, Secret Portal, Knowing Skull, Golden Idol, and Scrap Ooze receive ambient BGM.

Weekly Patch 30: Skewer

Falling event will no longer softlock the game if you have no valid cards to remove

Weekly Patch 21: Channel Lightning

Falling Event now correctly previews upgraded cards.
Falling Event's RNG is now seeded.

Weekly Patch 16: Back to Work

Falling Event now shows the chosen cards when hovering the event choices.

Weekly Patch 7: Setting Up All the Things

Falling event can no longer target bottled cards.

Weekly Patch 1: The First of Many!

Falling Event can now hit Strikes and Defends, making the event potentially not as bad.