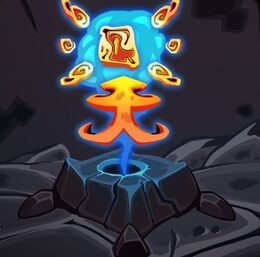 Duplicator is an event that can appear in Act 1, Act 2, and Act 3. You encounter a shrine with the power to duplicate a card.
Options
[
]
[Pray] Duplicate a card in your deck.
Dialogue
[
]
Encounter
Before you lies a decorated altar to some ancient entity.
Pray
You kneel respectfully. A ghastly mirror image appears from the shrine and collides into you.
Leave
You ignore the shrine, confident in your choice.
Notes
[
]
Duplicating an upgraded card results in an upgraded copy.
Duplicated copy of Ritual Dagger or Genetic Algorithm will carry over the value that the card has gained.
Duplicated copy of Bottled card will NOT carry over its Bottled status. You are NOT guaranteed to draw a duplicated copy of a Bottled card on your first turn.
See Also
[
]
Update History
[
]
Weekly Patch 7: Setting Up All the Things

Fixed issue where bottled cards + Duplication event caused issues.