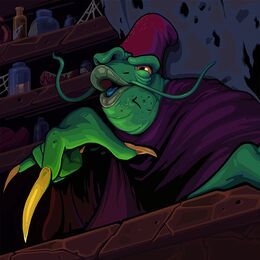 Designer In-Spire is an event that can appears in Act 1, Act 2, and Act 3. You encounter a shop with a snobbish owner, who reluctantly offers you his service.
Numbers in parentheses are for Ascension 15 or higher.
[Adjustments] Lose 40 (50) Gold. The reward presented will be one of these two:

Upgrade a card.
Upgrade 2 random cards.

[Clean Up] Lose 60 (75) Gold. The reward presented will be one of these two:

Remove a card.
Transform 2 random cards.

[Full Service] Lose 90 (110) Gold. Remove a card, then upgrade a random card.
[Punch] Lose 3 (5) HP.
Dialogue
Edit
Encounter
You discover a

colorful

shop with the banner "IN-SPIRE" and walk in to see what's inside.
"No, no way. Nope. Can't let you in!" A man with ridiculous clothing appears at the entrance to bar you.
Designer: "This will not do, no no. What is this style? Disgusting! Are you

bleeeeding?

Groooss.

Business?? You a customer? Fine. Whaaatever."
He lets out an exaggerated sigh and points at a list of services.
The services seem fine, but you would rather punch this smug man in his smug face.
Adjustment, Clean Up, or Full Service
Designer:
"Okay, bye bye now."
...should've punched him.
Punch
You punch him so hard your fist hurts.
Designer: "My FACE!! Now I'll have to-"
He fainted. Who's

groooss

and

bleeeeding

now?
If you do not have enough HP for the [Punch] option, you will not encounter this event.
If you have insufficient gold, not enough cards to upgrade, or not enough cards to remove, the corresponding option will be disabled.

If none of the first three options are available, you will be forced to select [Punch] to leave the event.
The name of the shop is a pun on the word "Inspire".

The shop belongs to a designer, an occupation which their works are drawn from many inspirations.
The shop is literally in the Spire.
Update History
Edit
Patch V2.0: The Watcher

The Designer event's options are now seeded.

Weekly Patch 39: We Meet Again!

Hotfix: The Designer event now has invalid options greyed out (caused softlock).
Added City/Beyond Event: Designer In-Spire.
Community content is available under
CC-BY-SA
unless otherwise noted.