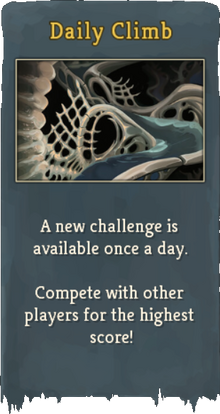 Daily Challenge, known as the Daily Climb in game, is a game mode that allows players to compete in different Challenges every day. The final score of the run is submitted to the daily leaderboards. The leaderboard for the current day can be viewed in-game.
Upon completing a Daily Challenge for the first time, the player is awarded the "My Lucky Day" achievement.
Modifiers
[
]
Modifiers are unique changes to the game that can be either positive or negative. They are colour coded in game, green for positive and red for negative. A list of the daily modifiers can be found on the Custom Mode page.