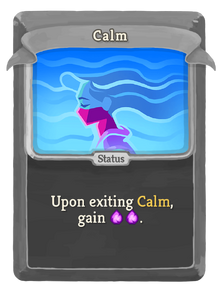 Calm is one of the four stances of the Watcher. The others are Wrath, Divinity, and Empty.
Upon exiting this stance, gain


.
These cards allow you to enter Calm:
This card has interaction specifically for Calm:
Teardrop Locket: Start each combat in Calm.
Violet Lotus: Whenever you exit Calm, gain an additional , effectively causes Calm to generate upon exiting.
Stance Potion: Gives you a choice to enter Calm.
Community content is available under
CC-BY-SA
unless otherwise noted.