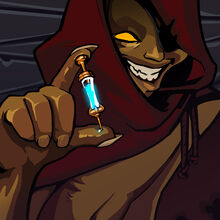 [Test J.A.X]
Get JAXXED. (Gain
J.A.X
.) 
[Become Test Subject] Choose and transform 2 cards in your deck.
[Ingest Mutagens] Gain a special relic. (Mutagenic Strength)
Strategy
If your deck is about losing HP with cards, J.A.X. is the best. Mutagenic Strength gives you a heavy buff at the start of combat, so otherwise, it's good. Transforming cards is best when you have Strikes or other bad cards you'd like to remove.
Update History
Weekly Patch 51: Recursion

Minor text cleanup for Augmenter event.
Typo fix in Augmenter event.

Weekly Patch 46: Adrenaline

Fixed punctuation in Augmenter event.

Weekly Patch 44: Chrysalis

Augmenter event transform option now allows choosing 2 cards to Transform instead of selecting 3 at random.

Weekly Patch 40: Forethought

Augmenter event no longer incorrectly upgrades transformed cards.
Augmenter event will no longer give out duplicate relics on Endless mode.

Weekly Patch 39: We Meet Again!

JAX Dealer event reworked.
J.A.X. Dealer event renamed -> Augmenter.

Weekly Patch 21: Channel Lightning

J.A.X. Dealer event's cost of J.A.X. updated 100 -> 77 Gold.

Weekly Patch 4: Full speed ahead!

Incorrectly using wavy text in JAX event fixed.
Community content is available under
CC-BY-SA
unless otherwise noted.